Manuscript Collection No. 179
---
Repository:
The Jacob Rader Marcus Center of the American Jewish Archives
Creator:
Rosenbaum, Bella Weretnikow, 1880-1960
Title:
Bella W. Rosenbaum Papers
Dates:
1896-1961
Quantity:
0.4 linear feet (1 Hollinger box)
Abstract:
The Bella W. Rosenbaum Papers consist of the writings and correspondence of Bella Rosenbaum, who was an early lawyer in Seattle, Washington and a Jewish housewife in New York City. Rosenbaum was a writer of both fiction and Jewish American history.
Collection Number:
MS-179
Language:
Collection material in English.
---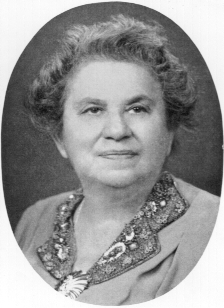 Bella Werentinkow Rosenbaum was born 15 August 1880 in the small town of Kominetz Pdolsk on the border of Russia and Poland. Her parents were shopkeepers who were active traders of goods between Poles and Russians in spite of political tensions. In 1881, the Werentinkows immigrated to America and settled in Winnipeg, Manitoba through the aid of the Hebrew Immigrant Aid Society.
Bella went to local schools in Winnipeg as well as an afternoon Hebrew school sponsored by family friend Moische Malamud. At age 13, her parents emigrated again to Seattle, Washington. They were drawn by the gold rush and other opportunities. The Weretnikow family was active in the local Orthodox congregation. Following the move, Bella entered high school, repeating some work done at the Collegiate Institute in Winnipeg. She later attended the University of Washington while working in her parent's store. After obtaining a B.A., Rosenbaum joined the class of the newly formed law school. In 1901, she became the first woman lawyer in the state of Washington.
After an article about her appeared in the American Israelite, Bella received a letter from a Tennessee lawyer named Lewis Rosenbaum requesting information about the practice opportunities in the area. He eventually moved to Seattle and married Bella Werentinkow in 1905. Following her marriage, Bella gave up the practice of law but retained an active interest in civic and community affairs. In 1914, the Rosenbaums moved to New York City, where her husband continued a law practice and the family participated in the local Orthodox community. Rosenbaum also wrote fiction about Jewish family life.
Bella Werentinkow Rosenbaum died on 31 December 1960. Lewis and Bella Rosenbaum had three sons and two daughters.
---
The Bella W. Rosenbaum Papers detail biographical information about Bella Werentinkow Rosenbaum and her family. Bella Rosenbaum's children donated a copy of Rosenbaum's autobiography, which was published in excerpt form in the American Jewish Archives Journal in April, 1967. The manuscript in its entirety is included in the papers. Bella Rosenbaum's manuscript focuses on her early years as an immigrant from Russia in both Winnipeg, Manitoba and Seattle, Washington. She also details life as a Brooklyn housewife in an Orthodox Jewish community. There are relatively few references to her experience as a lawyer. The papers also contain the biography Rosenbaum wrote about the family history of her husband Lewis Newman Rosenbaum.
Bella Rosenbaum, while living in Brooklyn, New York, wrote a series of fictional stories about Jewish family life. These manuscripts are handwritten and it is not known whether they were ever published. There are also a few nonfiction pieces.
---
The Bella Rosenbaum papers are arranged into a single alphabetical series.
---
Terms of Access and Use
The Bella Weretnikow Rosenbaum Papers are open to all users. The original manuscript collection is available in the Barrows-Loebelson Reading Room of the Jacob Rader Marcus Center of the American Jewish Archives.
Property and Literary Rights
Ruth Lipston, by the act of donating the Bella Weretnikow Rosenbaum Papers to the American Jewish Archives, assigned all property rights to the American Jewish Archives. Literary rights are retained by Bella Weretnikow Rosenbaum and her heirs. Literary rights may also be retained by specific creators of materials.
Questions concerning rights should be addressed to the Executive Director of the American Jewish Archives. For more information see the American Jewish Archives copyright information webpage.
---
Rosenbaum, Bella W. Nearprint Biographies File.
Rosenbaum, Bella W. Picture Collection.
---
Footnotes and bibliographic references should refer to the Bella Weretnikow Rosenbaum Papers and the American Jewish Archives. A suggestion for at least the first citation is as follows:
[Description], [Date], Box #, Folder #. MS-179. Bella W. Rosenbaum Papers. American Jewish Archives, Cincinnati, Ohio.
The Bella W. Rosenbaum Papers were received from Ruth Lipston, Washington, D.C., in 1961.
Processed by Kevin Proffitt.
No further accruals are expected to this collection.
---
Series A. General Files. 1896-1961.
Box
Folder
1
1
Diary. 1896.
1
2
My Life. Autobiography. 1955.
1
3
Rosenbaum, Lewis N. Biography. Undated.
1
4
Writings. A-L. Undated.
1
5
Writings. M-Z. Undated.
---
The following terms have been used to index the description of this collection in the AJA's online catalog.
Persons and Families
Rosenbaum, Bella Weretnikow, -- 1880-1960
Rosenbaum, Lewis Newman, -- 1881-1956 -- Biography
Subjects
Autobiographies -- Women authors
Jewish women -- New York (N.Y.)
Jewish women -- Washington (State) -- Seattle
Genres and Forms
Autobiographies
Occupations
Lawyers, Jewish -- Washington (State) -- Seattle