TABLE OF CONTENTS

Manuscript Collection No. 587
---
Repository:
The Jacob Rader Marcus Center of the American Jewish Archives
Creator:
Bloomfield-Zeisler, Fannie, 1863-1927.
Title:
Fannie Bloomfield-Zeisler Papers.
Dates:
1882-1927
Quantity:
3 linear feet (1 Hollinger box, 2 oversize boxes)
Abstract:
The Fannie Bloomfield-Zeisler papers consist of correspondence, news articles, scrapbooks, biographical material, family items, and miscellaneous material pertaining to the life and work of pianist Fannie Bloomfield-Zeisler. The bulk of the collection spans the years 1900-1925.
Collection Number:
MS-587
Language:
Collection material in English.
---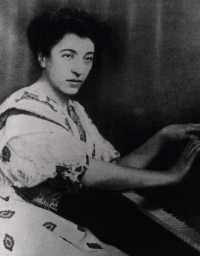 Fannie Bloomfield-Zeisler was born on July 16, 1863 in Bielitz, Austrian Silesia, the youngest of three children and only daughter of Solomon and Bertha (Jaeger) Blumenfield. (Fannie later anglicized her family name - as early as 1883). Fannie's father came to the United States in 1866, settling first in Appleton, Wisconsin, where his wife and children joined him the next year. About 1869 the family settled in Chicago where for many years the father and mother maintained a dry goods business.
Fannie was educated at home and also in the public schools and at the Dearborn Seminary in Chicago. Fannie showed early musical talent, receiving her initial piano training from her brother, Maurice. At age ten Fannie began training with Carl Wolfsohn, who established the Beethoven Society in Chicago. Her first public performance came at age 11 when she performed Beethoven's F-major Andante at a Beethoven Society concert. In 1877 Wolfsohn arranged an American tour for Fannie, where she was noticed by Russian pianist Annette Essipoff, who encouraged Fannie to study with her mentor, Theodor Leschetizky of Vienna.
At age 15 Fannie went to Vienna to train with Leschetizky. She remained there for five years, giving many public performances during this time. Returning to Chicago in 1883, Fannie gave her first full-length concert at Chicago's Hershey Hall on April 30, 1884. On January 30, 1885 she made her New York debut, performing with the New York Orchestra under the direction of Frank B. van der Stucken.
On October 18, 1885 Fannie married Sigmund Zeisler (1860-1931), a prominent Chicago lawyer noted for defending the anarchists in the Haymarket riot of 1886. The couple had three sons: Leonard, Paul, and Ernest. The Zeislers settled in Chicago and became active in the city's communal and cultural life, even hosting an informal reception at their Woodlawn Avenue home on the last Wednesday evening of each month. Fannie carefully fitted her concert career around her family responsibilities and maintained other interests beyond music. She liked to use tools, and for relaxation is said to have enjoyed carpentry and upholstering.
For decades, Fannie maintained an active, and rigorous, concert schedule in Europe and Americirca Cutting back her performances in later years, in part due to failing health from the demands of her schedule, Fannie devoted herself to teaching. One of her last acts was the establishment of the Fannie Bloomfield-Zeisler Musicians Relief Fund. In 1926 she suffered a serious heart illness. She died the next year, on August 27, 1927 at the age of 64.
The Austrian critic Eduard Hanslick called Fannie Bloomfield-Zeisler a "powerful master of the keyboard" and spoke of her "fiery temperament and a technique which is developed in the most minute detail." Other reviewers cited the beauty and fullness of her tone and the clarity and finish of her passage-work. It was written of Fannie Bloomfield-Zeisler that "her intense devotion to the highest standards of musical performance successfully achieved in spite of limited physical resources and diligent attention to family and students, belongs to a heroic tradition of keyboard virtuosity."
---
The Fannie Bloomfield-Zeisler (FBZ) papers show the life of a world-renowned pianist. The collection consists primarily of correspondence of FBZ with her contemporaries and fellow musicians. Notable correspondents include: Victor Herbert, Theodor Lescheitzky, Eduard Schutt, and Carl Wolfsohn.
Also included in the collection is a draft of a biography of FBZ, written by her husband, Sigmund Zeisler. Written in typescript, with handwritten annotations and corrections, the biography covers the gamut of FBZ's life in a general and chronological framework.
The collection concludes with family and biographical materials (birth certificate, awards, etc.), together with news articles on FBZ, programs and concert announcements, and a partial list of compositions that were recorded or performed by FBZ. Two oversize boxes (AJA box nos. X-186a and X-186b) contain four scrapbooks on FBZ covering the years 1883-1925. These scrapbooks hold concert announcements and reviews, miscellaneous newsclippings, and occasionally, some letters or other correspondence with colleagues or friends. These scrapbooks have been microfilmed and are available as AJA microfilm nos. 3315-3316.
This is a rich collection, full of personal details about Fannie Bloomfield-Zeisler, her work, and her family. It is an important collection in that it documents not only an individual musician's life, it gives glimpses into the world and personalities of art and music in the late 19th and early 20th centuries. Finally, the collection is significant because it documents the life of an American Jewish woman - a field of study for which, unfortunately (particularly for this time period), there are few original sources of this size and significance.
Though spanning the years 1863-1927, the bulk of the collection falls within the years 1900-1925.
---
The collection is arranged in one general series. Correspondence (which is arranged alphabetically) is followed by Sigmund Zeisler's biography of FBZ, personal documents, and scrapbooks.
---
Terms of Access
The collection is open for use; no restrictions apply.
Terms of Reproduction and Use
Copyright restrictions may apply. Authorization to publish, quote, or reproduce, with exceptions for fair use, may be obtained through the American Jewish Archives, Cincinnati, Ohio. Please address queries to the Executive Director of the American Jewish Archives. For more information, see the American Jewish Archives copyright information webpage.
---
Scrapbooks from boxes X-186a and X-186b have been microfilmed (MF-3315 to MF-3316) and are available via interlibrary loan.
Footnotes and bibliographic references should refer to the Fannie Bloomfield-Zeisler Papers and the American Jewish Archives. A suggestion for at least the first citation is as follows:
[Description], [Date], Box #, Folder #. MS-587. Fannie Bloomfield-Zeisler Papers. American Jewish Archives, Cincinnati, Ohio.
The Fannie Bloomfield-Zeisler papers were donated by Ernest B. Zeisler, Chicago, Ill., in 1959.
Processed by Kevin Proffitt, March 2003.
---
Series A. Papers, 1863-1927.
Box
Folder
1
1
General correspondence 1883-1927, undated
1
2
Bauer, Harold1919-1924
1
3
Concerts-Lamoureux, Association des1897-1911
1
4
d'Albert, Eugen1890-1892
1
5
Herbert, Victor1919-1920
1
6
Huneker, James G.1890-1920
1
7
Hutcheson, Ernest1907-1925
1
8
Kalich, Leopold and Bertha1917-1921
1
9
Leschetizky, Theodor, Eugenie and Therese1884-1926
1
10
Lindan, Paul1893; 1912
1
11
Mozkowski, Moritz1901-1922
1
12
Poldini, Ed1904-1921
1
13
Randolph, Harold1910-1913
1
14
Safanoff, W.1907-1911
1
15
Schnitzer, Germaine1910-1919
1
16
Schutt, Eduard1882-1926
1
17
Steinway and Sons1902-1921
1
18
Thomas, Theodore1890-1900
1
19
University Society, Inc., Publishers. Century Library of Music1915
1
20
Viereck, George Z.1911
1
21
Wolfsohn, Carl1885-1906, undated
1
22
Zeisler, Paul and Ernest1911-1912
1
23
Biography of FBZ, by Sigmund Zeisler, Part I (1863-1879) undated
1
24
Biography of FBZ, by Sigmund Zeisler, Part II (1888-1902) undated
1
25
Biography of FBZ, by Sigmund Zeisler, Part III (1905-1912) undated
1
26
Biography of FBZ, by Sigmund Zeisler, Part IV (1924-1927) undated
1
27
Birth certificate, biographies, awards 1863, 1893-1925, undated
1
28
News articles1893-1926
1
29
Scrapbook pages of news articles and programs1876-1884
1
30
Programs and announcements of concerts 1888-1925, undated
1
31
Lists of compositions recorded or performed by FBZ1921-1924, undated
1
32
Ledger containing list of composers and compositions undated
Box
X-186a
Scrapbooks1885-1901
Box
X-186b
Scrapbooks1883-1925
---
The following terms have been used to index the description of this collection in the AJA's online catalog.
Persons and Families
Bloomfield-Zeisler, Fannie, -- 1863-1927
Subjects
Jewish women -- Illinois -- Chicago
Piano -- Performance
Genres and Forms
Biographies
Occupations
Jewish musicians -- Illinois -- Chicago
Pianists -- Illinois -- Chicago
Women musicians -- Illinois -- Chicago