The Morris I. Mendeloff Paperes were donated to the American Jewish Archives by Alan Morris Mendeloff in 2008. Property rights are assigned to the American Jewish Archives. Literary rights to materials by Morris Mendeloff are held ny the Mendeloff heirs. Questions concerning rights should be addressed to the Director of the American Jewish Archives.
The Morris I. Mendeloff Papers are open to all users and available in the reading room of the American Jewish Archives
BIOGRAPHICAL SKETCH

top
Morris I. Mendeloff was born in Russia in 1887 and came to the United States at the age of sixteen. He first located in Baltimore where he attended the College of Physicians and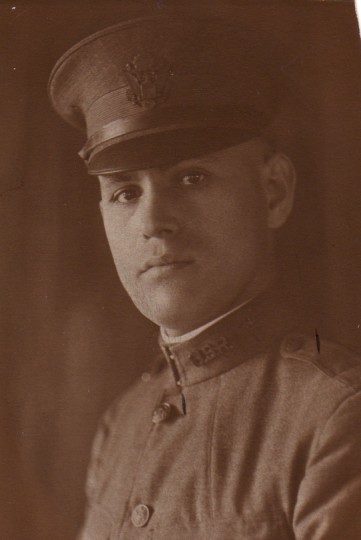 Surgeons, then upon graduation went to West Virginia to begin practice as a company doctor with the Kanawha & West Virginia Railway. In 1913, he moved to Charleston, W. Va., and began a successful general practice followed by a specialization in internal medicine.
In August 1916, Mendeloff received a commission in the United States Army as a first lieutenant. He was the first physician from Charleston to receive an active duty assignment in World War I. Ordered overseas in June 1918, he was assigned to the Thirty-seventh National Guard Division of Ohio in their field hospital in France. He was in charge of the dressing station which was always well to the front.
Mendoloff was with the Thirty-seventh in some of the most critical fighting of the Meuse-Argonne offensive from September 26 to October 1, 1918. He then accompanied the Thirty-seventh to the Belgium front and was on duty in Flanders from October 31 to November 9, 1918. He received an honorable discharge in April 1919 and soon afterwards returned to the United States to resume his private practice in Charleston.
Morris Mendeloff married Esther Cohen in March 1917. They had three children, Albert I., Lillian, and Morris I. The Mendeloff's were active members of Temple Israel of Charleston, West Virginia.
Dr. Mendeloff died in 1967.
SCOPE AND CONTENT NOTE

top

The Morris I. Mendeloff Papers consist of correspondence and a memoir documenting his experiences as a field hospital physician in France and Belgium during World War I. Also included are photographs and miscellaneous items. Span dates for the collection are 1917-1967. The papers are arranged into the following series:
SERIES A: Correspondence
SERIES B: Memoir
SERIES C: Miscellaneous
SERIES A consists of detailed letters Mendeloff wrote to his wife, Esther. The correspondence starts in June 1918 when Mendeloff was sent overseas and ends upon his arrival back in the United States in April 1919. The letters describe his travels, camp life, his experiences with the local population and the culture and terrain of France and Belgium. There is very little discussion in these letters of military activity or battles.
SERIES B is a 49-page handwritten memoir which Mendeloff completed in France soon after the armistice was signed [November 1918] and before he arrived home [April 1919.] This memoir does contain more details of battles as well as military and medical activities. He also includes descriptions of his travels and contact with the local populations of France and Belgium.
SERIES C consists of photographs of Mendeloff in his uniform and an image of Morris and Esther Mendeloff in 1917. Also included in this series are a number of newspaper clippings about Mendeloff, some postcards and scattered military records. Spans dates are 1917-1967.
BOX AND FOLDER LISTING

top

Box	Folder		Contents

SERIES A:	CORRESPONDENCE

1	1		Correspondence: Morris Mendeloff to Esther Mendeloff. 
			June 16, 1918 - July 27, 1918.
	2		Correspondence: Morris Mendeloff to Esther Mendeloff. 
			August 8, 1918 - September 23, 1918.
	3		Correspondence: Morris Mendeloff to Esther Mendeloff. 
			October 17, 1918 - November 30, 1918.
	4		Correspondence: Morris Mendeloff to Esther Mendeloff. 
			February 12, 1919 - April 2, 1919.

SERIES B:	MEMOIR

	5		Memoirs of Dr. M. I. Mendeloff as a First Lieutenant in the Medical Corps in World War I. 1918-1919.

SERIES C:	MISCELLANEOUS

	6		Postcards and miscellaneous military records. 1918-1919
	7		Photographs. 1917-1918.
	8		News clippings. 1918 - 1967.


Copyright © 2008 Jacob Rader Marcus Center of the American Jewish Archives